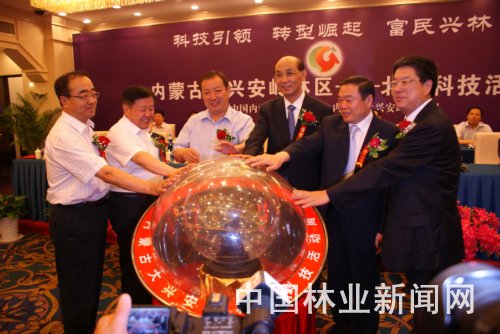 Sun Zagen, Bai Xiangqun and others jointly pressed the electronic opening crystal ball.
Newspaper reporter Wu Zhaozheng reported that the Inner Mongolia Forest Industry Group and the Inner Mongolia Forestry Administration Science and Technology Week, with the theme of "Science and Technology Leading, Transformation and Rising, Enriching the People and Promoting Forestry," kicked off in Beijing on June 16. The purpose is to fully implement the strategy of revitalizing forests with science and technology in accordance with the requirements of the strategy of rejuvenating the country with science and technology, using science and technology to support the innovation and development of forest areas, the rise of transformation, and the support of modern forestry construction. Industrialization of ecological construction, ecologicalization of industrial development ", to achieve sustainable development.
Sun Zhagen, Deputy Director of the State Forestry Administration, and Bai Xiangqun, Vice Chairman of the Inner Mongolia Autonomous Region Government, attended the opening ceremony.
During this technology week, Forest Industry Group (Forest Management Bureau) will work with 9 scientific research institutions, including Tsinghua University, Chinese Academy of Forestry, Beijing Forestry University, to discuss the scientific and technological problems of forest economic transformation. And take this as an opportunity to increase scientific and technological innovation and promotion, increase scientific and technological research such as ecological technology and emerging industry technology, strengthen forestry science and technology capacity building, vigorously carry out science popularization and education, establish a long-term mechanism for stable growth in scientific and technological investment, The scientific research institutions are horizontally united to jointly develop and promote scientific and technological projects, and provide scientific and technological support for forestry industrial projects.
In the past 60 years of the development and construction of the Greater Xing'an Mountains forest area in Inner Mongolia, it has always attached great importance to the development of science and technology and the combination of science and technology and production. In recent years, Forest Industry Group (Forest Management Bureau) has formulated the industrial development direction of docking with science and technology, docking with policies, and docking with the market, establishing the working idea of ​​"ecological construction industrialization, industrial development ecologicalization", and clarified " To build a century-old forest industry and realize the strategic goal of "enriching the people and rejuvenating the forest" and the overall development thinking of "3589" have injected an inexhaustible motive force for the economic and social development of the forest area.
(China Timber Network Chief Editor: Huang Susu)